WHAT IS KUK SOOL
Kuk Sool is the style of martial arts practiced by Warrior Institute of Chicago students. Kuk Sool is a beautiful and dynamic "hard-soft" style of martial art, emphasizing speed and fluidity. At the same time, it is an elegant and powerful system that integrates the body, mind, and spirit.
The exercises and postures of Traditional Korean Martial Art are designed to incorporate and work all levels of your body. The breathing techniques connect your body and mind, and the concentration exercises are designed to improve your speed and mental skills. The practice of Traditional Korean Martial Art energizes you for the day or diffuses tension from a stressful one. Kuk Sool naturally aligns your body structure and allows your body to move freely with increased agility, balance, and grace.
It is a building process. The foundation is laid with individual components being learned first, and training divided up into stages with each stage building upon the next.
The physical training behind Traditional Korean Martial Art is very specific and includes weight resistance training, aerobic & anaerobic conditioning, total body training, hand/foot building, and strengthening techniques.
The journey from White Belt to Black Belt is one of incremental learning and skill development, that students of any age and fitness level can embark on.
HOW DOES KUK SOOL COMPARE TO OTHER MARTIAL ARTS?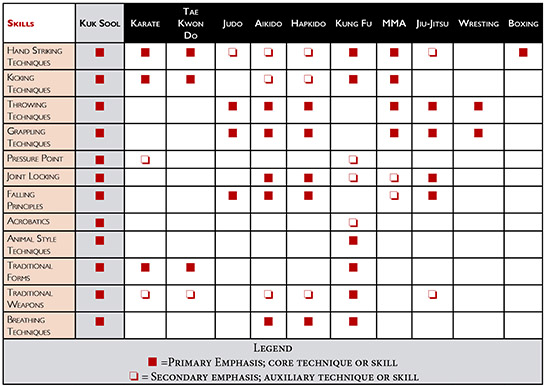 FUN, EXCITEMENT & PREPARATION: STUDENTS & PARENTS LOVE MARTIAL ARTS TOURNAMENTS!
One of the most fun parts of martial arts training is the ability to test your skills by competing in a tournament. Tournaments are not only fun for competitors, but they also become a great social experience for parents as well!
From sparring to forms to team demos, these awesome competitions are not only a place where our students can test their skills, but also a place where team spirit is built, fears are overcome, and character is developed. Most importantly, they are tons of fun!
One more reason you will love martial arts at Warrior Institute of Chicago!